Jaime is a mixed-media painter and illustrator, her work has been shown in galleries throughout the US and internationally. As a proud parent of Casper; a beagle rescue through Rescue Freedom Project and Linus; a deaf cattle-dog mix that she taught sign language, Jaime wanted to do more. She works directly with rescue organizations, donating a percentage back to help the animals and creating awareness through her art. Jaime works off photographs, blending her abstract style and mixed-media collage with your pets portrait; creating a one of a kind, extraordinarily unique and personal, work of art. Pricing starts at $350 and includes a hand-picked frame for your mixed-media painting.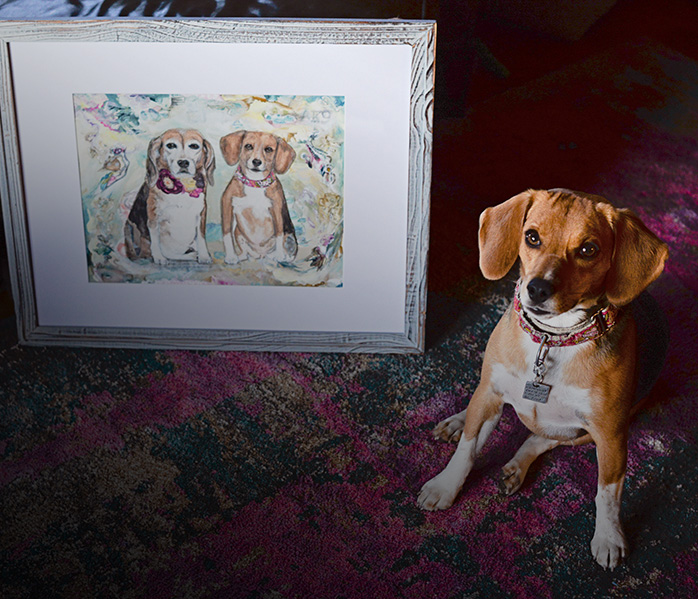 Scroll Down to View Entire Gallery
These prices include a hand-picked frame for your painting. It also includes up to 2 animals in one painting (for an 8×10 on up). Special dates, toys, or items that are significant can be added, but must be discussed prior. I will be honest with you and say that the more room I have to play in- the more it will appear to be a blended work of art, rather than just a portrait.
$350 for an 8×10 (11×14 Framed)
$450 for an 11×14 (16×20 Framed)
$600 for a 16×20 (20×24 Framed)
*FYI- Shipping is additional since it varies significantly, depending on size and weight of frame.
"I accept PayPal and credit cards. I ask for half up front, then the remaining balance plus shipping when I'm finished. It takes anywhere from a week and half to 3-4 weeks, it really depends on size and how much is involved. I can keep you updated on progress along the way, unless you want it to be a surprise. I paint directly from digital images, so it's critical that I receive clear and well lit photographs of your pet. Full body shots from head to toes are preferred- Both sitting, and standing poses. The more pictures, the better! I like to paint as many little details as possible. I have to add this is illustrated version of your pet from an artists individual style and perception. They will definitely resemble your pet, but aren't meant to be drawn completely realistic."
The Process
First, I sketch the animal, working from photographs.
Second step is to paint the animal…I use watercolor, ink and acrylic, adding as many intricate details as I can.
Third, I work on painting the background- sometimes working on several backgrounds at once, so I have multiples to choose from.
Fourth, I cut the animals out and place them into the painted background, incorporating collage and design elements.
Finally I frame the finished portrait.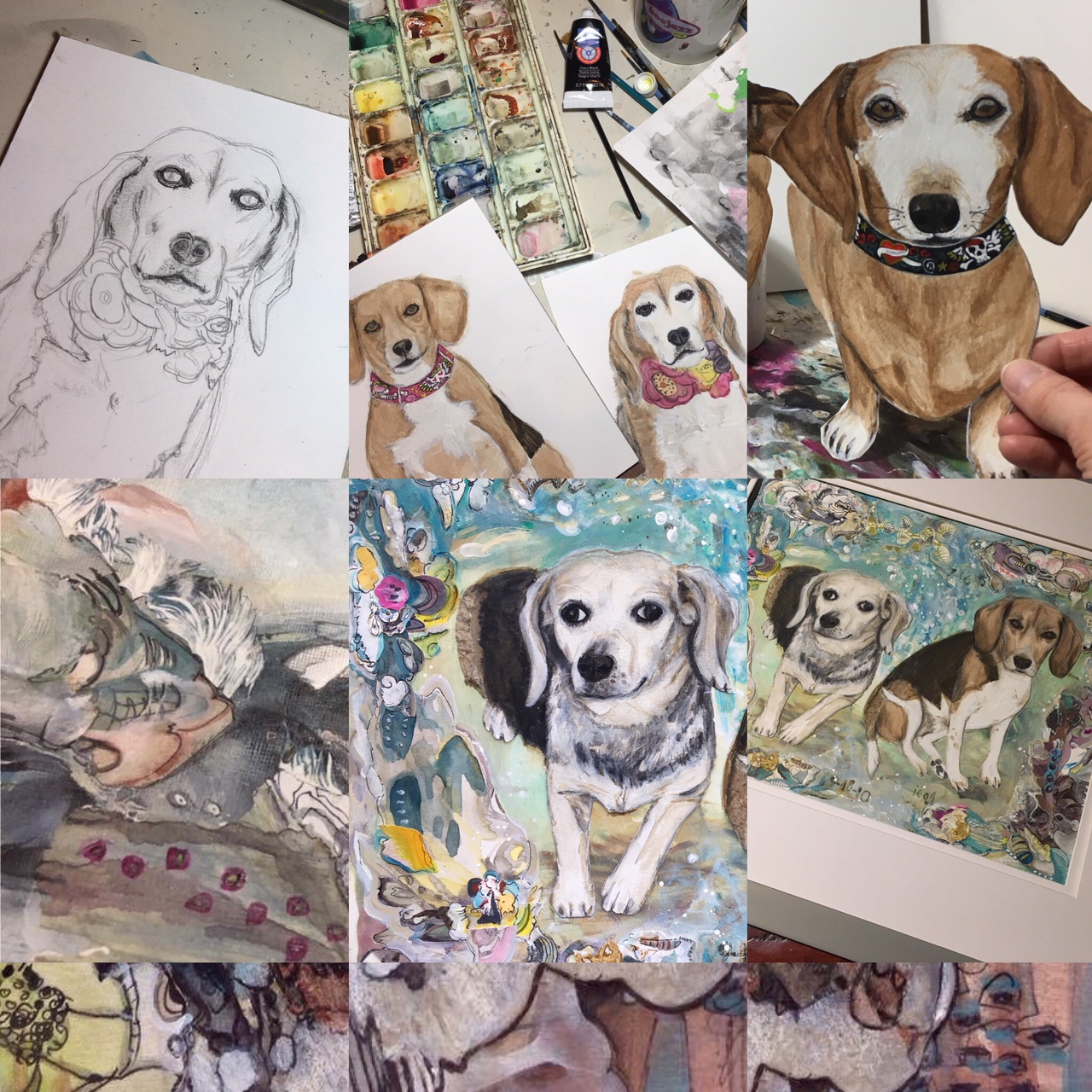 Scroll Down to View Entire Gallery